The New Mumbles Mile – Food and Drink Heaven
Published: Thursday 29th Nov 2018
Written by: Home From Home Team
Fast forward to today, and not only have most of the pubs closed, but the whole area has reinvented itself as a haven for foodies, with a wide range of independent eateries catering for all manner of tastes.
From street vendors serving freshly caught seafood along the promenade to boutique restaurants serving welsh black beef overlooking the Swansea Bay from a third-storey balcony; Mumbles and the nearby Langland really can give you something truly unique.
With a vast range of properties to choose from, your stay in Mumbles can be tailored to your individual needs. If it's a romantic break for two, Langland Bay Manor or Oyster Bells is ideal, or for larger groups, Ty Hyfryd in Limeslade not only sleeps up to 11 people but is also dog-friendly.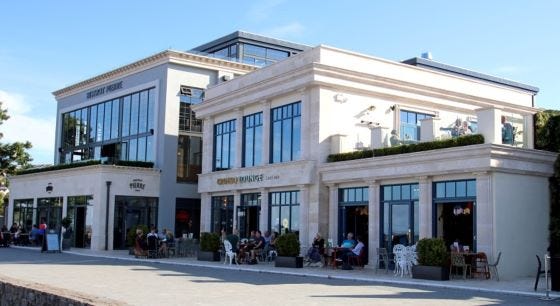 Oyster Wharf
A new development that opened in 2017, Oyster Wharf is home to a number of recognisable chain restaurants such as Loungers and Le Bistrot Pierre as well as local restaurant La Brasserie who also have multiple locations throughout the city.
The new development is in the heart of the Village and offers visitors the unique vantage point of enjoying a coffee, cold drink or 5-course meal all looking out at the glorious sweep of Swansea Bay.  With most restaurants operating bi-fold doors, the view can be enjoyed no matter what the weather but on a balmy summers night, sipping a refreshing cocktail with friends on the balcony is sure to create great memories.
Further along the 'Mile' towards the pier are dotted multiple independent restaurants serving everything from bar meals and Welsh-black-beef steak to traditional Italian and Iranian cuisine, however freshly caught fish is the speciality of the area.
Tracing its roots to its fishing heritage many centuries ago, it's no wonder that some of the most excellent seafood restaurants are located in Mumbles. Serving locally caught fare, you can experience an authentic taste of Wales during your visit.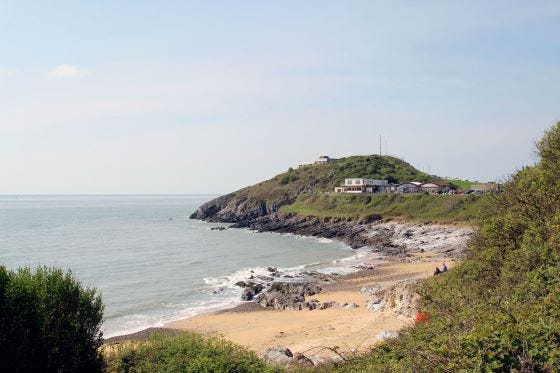 Castellamare
Around the headland lies Bracelet Bay and sat facing Mumbles Lighthouse and overlooking the bay is an authentic Italian restaurant, Castellamare.
Serving traditional handmade ice-cream and coffees during the day, the bar/restaurant has a delightful vantage point from where to sit and just enjoy the view.  With a small beach and play area, it's also a great place to take the children and spend a few hours relaxing.
At lunchtimes and especially during the evening, the restaurant comes alive serving homemade pizza from its wood-fired oven, fresh pasta, calzone and many other dishes made using recipes passed down generations.
They also offer a range of other dishes, so if Italian food isn't to your taste, there's something for everyone, including an excellent children's menu.
Nearby accommodation is extensive, so whether it's a chalet on Limeslade Drive that sleeps four or the 4* Salt Plage that sleeps six in luxury and is pet-friendly, your within walking distance of Castellamare and the Village of Mumbles.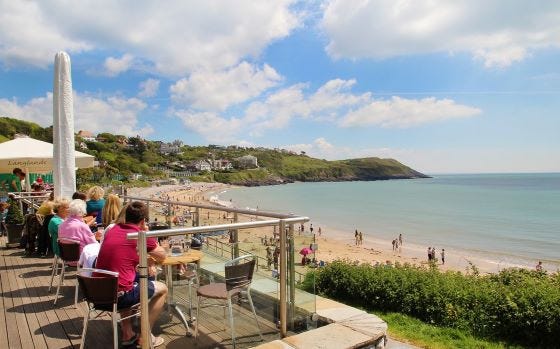 Langland
A few miles from Bracelet Bay is Langland.
Accessible by foot across the cliff-top path or 5 minutes in a car; Langland is a must visit location and if you can, look to stay here.
Recognisable by its row of green and white beach huts, the bay has been a favourite destination since the late 19th century and has something for everyone including the delightful restaurant – Langland Brasserie.
Fondly known as Langland "Bras", the dog-friendly venue (outside only) serves an incredible range of steaks, freshly caught seafood and has a good vegetarian menu to go with their extensive wine list. They also serve tea, coffee and light bites throughout the day so if the beach-life is getting too much, venture inside!
Langland Bay Manor and Crawshay Court are two popular properties nearby and for 5* luxury, take a look at The Rise or Beach Rocks!