Mumbles Cottages by Village
Mumbles is known as the gateway to the Gower Peninsula. People living in South Wales boast about the picturesque village that is Mumbles. There is so much to see and do here..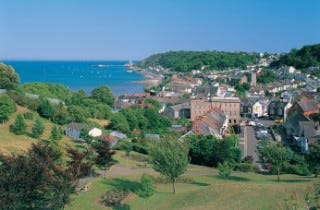 There are three iconic landmarks; the fabulous Mumbles Lighthouse - built in 1794 and still a crucial, functional building for the fishermen and friends of the sea. If you time it right, when the tide is out you can walk right across to the lighthouse, just be careful you make it back before the tide! The second is the proud standing Oystermouth Castle, open to the public April to October and with stunning views over Swansea Bay, this is a must visit. Finally, arguably the most iconic of the three and most photographed is Mumbles Pier. Open since 1898 and developed every year - this place hold so many dear memories to people living locally and in surrounding areas. With an arcade, cafe, fishing shop, mini bowling alley and a fish and chip shop, there is always a reason to head to the pier! 
To see cottages in the village or to read more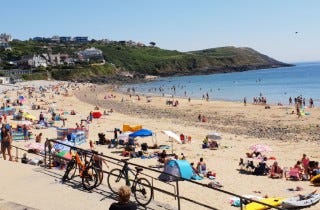 Joined at low tide, separated at high-tide; Langland and Rotherslade are rich in history and although only 750 metres across, there's enough to see and do to keep visitors coming back day after day. At the foot of the steep Rotherslade Road, a short drive from Mumbles or a brisk walk along the cliff path lies Rotherslade Bay or "Little Langland" as it is known locally. 
With its picturesque huts perched on the cliff-tops overlooking the small, pebbled beach below, Rotherslade has the look and feel of a painting.  Little wonder then that famous impressionist artist, Alfred Sisley, painted at least 11 views across the bay when he stayed in what was once the Osbourne Hotel (now a modern apartment complex) during his honeymoon in 1897. At the head of Rotherslade stands a terrace with steps leading to the beach and a small café serving refreshments for most of the year. 
To see cottages close to Langland and Rotherslade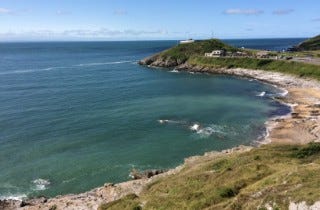 Limeslade, which lies just beyond Mumbles Head, is the perfect holiday location, within walking distance of pretty coves and fabulous beaches, as well as a host of leisure attractions for people of all ages. 

The Limeslade area includes the coves of Bracelet Bay and Limeslade Bay which both offer a cornucopia of fascinating rock pools as well as some soft sand, with the beautiful beaches of Rotherslade Bay and Langland Bay just a five-minute drive or a brisk walk along a coastal path boasting fabulous views. 

Bracelet Bay is flanked on one side by Mumbles Lighthouse, which has been keeping sailors safe since 1794, and on the other by Castellamare Italian Restaurant and Cafe/bar where its pizza dishes and pasta dishes have been enjoyed by families since 1998. Alongside sits a children's hilltop park with views across both bays.
To see cottages close to Limeslade