Free Gower Visitor App
Download our free area guide and you will have access to all the best places to eat and drink, activities and attractions, events, beaches and much more. We have put this guide together to help enhance your stay in this beautiful area. Swansea Bay, Mumbles and Gower really does have a bit of everything – a city by the sea, stunning bays, culture, nightlife, quiet rural and coastal villages, and lots of outdoor adventure.
The Gower Visitor Guide App uses geotagging so as long as you have enabled location services on your device, the app will list each category in distance from your current location. It can also provide you with directions to your chosen destination.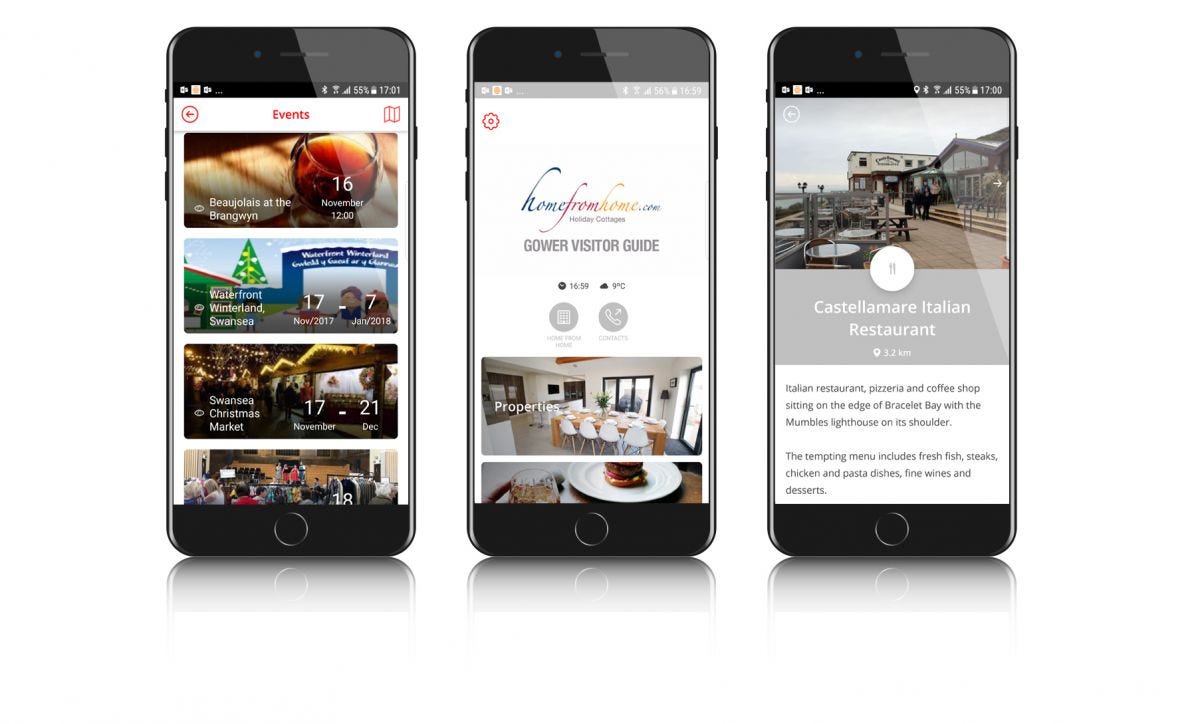 How to use the App?
The Home screen has 6 tabs and information and contact details for Home from Home.
Home From Home - Click on the circular tabs to get further information about us including: our location, contact details, website and social media feeds.
Properties - This tab will take you to our mobile website where you can search and book any one of our 250 properties.
Eating & Drinking - This area will give you information about the best cafes, bars and restaurants around the area. 
Points of Interest – This page lists all the POI's in the App in distance from your location. At the top is a heading menu (slides left & right) which can be used as a filter. Select a filter to choose your preferred category. Alternatively select 'Map' in the top right hand corner, to see all of the POI's on a map. For more info on each Point of Interest simply tap the thumbnail and it will take you through to more detailed information. 
Routes – These are tours of the area which we feel might be relevant to your stay. These will change over time as we set up new tours.
Events – Simply a list of activities and attractions taking place in the coming months. Tap the event for more info.
Useful Contacts - Details of hospitals, taxi firms, doctor's surgeries, travel suppliers etc.