Shopping Heaven in Cardiff City Centre!
Published: Thursday 29th Nov 2018
Written by: Home From Home Team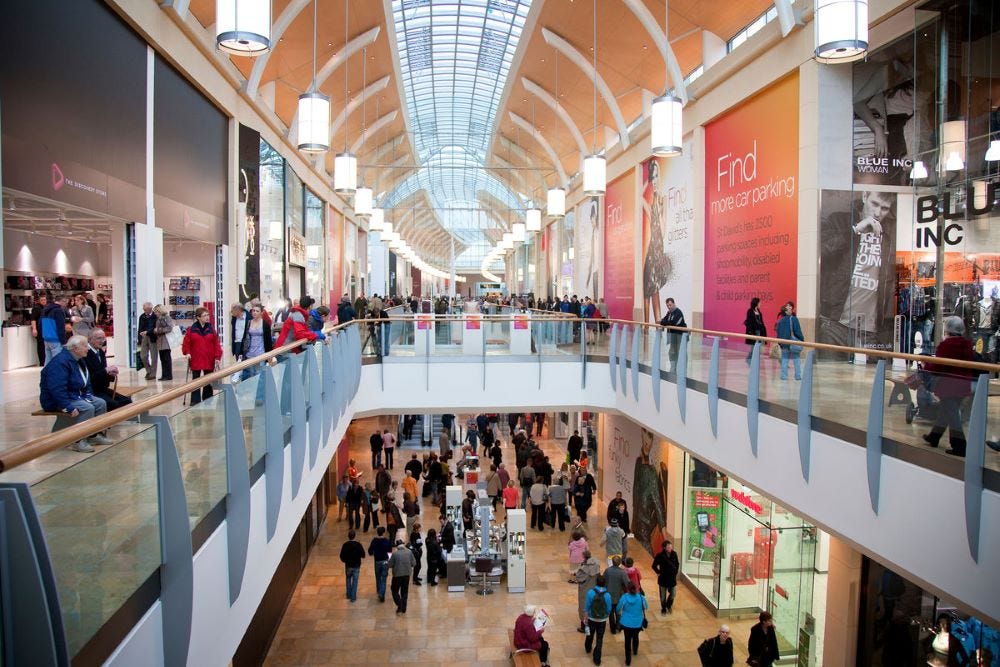 Home to 1.4 million square feet of pure shopping heaven, Cardiff has earned a reputation as one of the top ten retail destinations in the UK. Whether you like to dig deep for designer labels or bargain buy on a budget, Cardiff hands you a first-rate shopping experience right there on a giant plate of loveliness!  From new fashions to old fashions; from contemporary to classic, this bright and bustling city paints every purchase with a splash of colour. And as an added bonus, Cardiff city centre is largely pedestrian! In shopping extravaganza terms, this pretty much means you can get around the stores with just a comfortable stroll instead of feeling like you're doing a marathon!
To help you plan the perfect Cardiff shopping trip, here are some of the best places to go:
St David's Centre
This modern shopping mall is the biggest (and busiest) retail centre in Cardiff, and once you step foot inside, you'll see why it's the place to be! First of all, it's fully undercover, which is good news for a country that is prone to a trickle of rain or two! Secondly, it's enormous. And enormous means more shops!  St David's Centre has actually recently doubled in size and is now home to John Lewis, Apple, Disney, Vivian Westwood, Cath Kidston and quite frankly, most of the leading retailers you could reel off your tongue.  It's also incredibly spacious and airy, so even when the crowds flock in their hoards, you'll still have plenty of room to swing those shopping bags as much as you want!
Cardiff Central Market
If you want a unique shopping experience in the heart of a sparkling city, then head to Cardiff Central Market! Boasting an impressive diversity of stalls in a striking Victorian structure, this dynamic market is packed with life (and everything that comes with it!)  - and all under one gigantic glass roof!  From pots and pans to rock and roll, there's not much you won't find in this treasure cove of goodies.
You'll get to sample a taste of history when you visit Cardiff Market too, as it's actually been trading since the 1700s and has occupied the same site for over a hundred years. And while you will no longer find livestock hung outside its doors, some of the market's original features still stand strong to this day!
Queen Street
This aptly named street is shopping royalty in Cardiff, stretching east from the castle. Home to the city's major stores including Marks and Spencer, WH Smith, Boots, Primark, Next and Top Shop, this fully pedestrianised street attracts oodles of shoppers every day! Most shops on Queen Street are open 9am-5.30pm Monday to Saturday and 11am to 5pm on Sunday. And with the shops being only a ten-minute walk from the train station, and plenty of nearby car parks available, it's one of the easiest retail spots to reach in the capital!
Castle Arcade
If quirky is your thing, or even if you just fancy a break from the hustle bustle, head down to Castle Arcade right opposite Cardiff Castle. This charming three storey arcade is bursting with independent stores and brightly coloured shop fronts, with plenty of rare and unique items to buy. All that shopping working up an appetite? You'll find plenty of cafés and food shops dotted around the arcade too. A lovely little haven away from the crowds of the High Street, it's well worth paying a visit to Castle Arcade when you take a shopping trip to Cardiff.
Spillers
Love music? Head to Spillers in Morgan Arcade! Known to many as the 'Oldest Record Shop in the World', this retro music store has played a big part of Cardiff life since 1894 and offers specialist knowledge on music and a diverse selection of compact discs and good old-fashioned vinyl!
With a shopping opportunity at almost every footstep of Cardiff City Centre, you're guaranteed bags full of fun!