Gone With the Wind - Gower Edition
Published: Tuesday 17th Oct 2017
Written by: Home From Home Team
We're not talking about the 1939 Hollywood classic; we're talking about hang gliding and paragliding.  The Gower Peninsula, more specifically Rhossili, is a renowned spot, so if air sports are your indulgence, Gower is the place for you. 
Rhossili Downs

With Worm's Head clear in sight, it's no surprise that taking off from Rhossili Down is often voted as one of the best places to hang and para glide in the UK. 
On a clear day, the expansive view is picturesque, and the sunsets at Rhossili are some of the finest in the UK so make sure you bring a camera to capture your flight as it will be a real memory maker.
The main point of contact for anyone wishing to fly in Rhossili and the surrounding area is the South West Wales Soaring Club. The club oversees all Hang and Paragliding activity in the area and the National Trust as landowners, communicate with them, over all flying activities at Rhossili.

Any safety information, restrictions or rule changes are available to the public, through the club - http://www.swwsc.co.uk/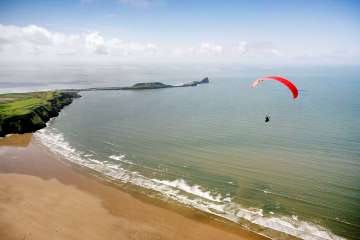 The Worm's Head Hotel

Situated adjacent to the main Rhossili car park is the Worm's Head Hotel. After a long, hard day of paragliding and air sports, The Worm's Head Hotel can give you the perfect spot to relax, refuel and recharge! With a variety of food and drink on offer, the Worm's Head Hotel also has a fantastic beer garden from where you can watch the sunset after a great day's flying. 
For more information on the Worm's Head Hotel and how you can easily access its facilities, as well as view its broad menu, visit their website:
http://www.thewormshead.co.uk/
If you fancy air sports in a slightly different location on your weekend break in Gower, why not pay a visit to Pembrokeshire? Just an hour or so drive away, Pembrokeshire Paragliding School can give you the variety you need.
Check out their website for more information http://www.pembrokeshireparagliding.com