Following in the Footsteps of Dylan Thomas
Published: Thursday 26th Sep 2019
Written by: Home From Home Team
Though there are locations open and events happening all year round to honour his memory, the celebration of his birthday on 27th October kick-starts the Dylan Thomas Festival, a big birthday bash which adds even more cultural and creative writing programmes and themed entertainment in his exciting home town. www.dylanthomas.com/festival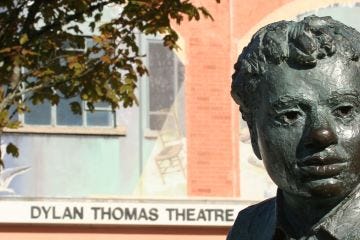 But why wait? Here's an itinerary you can do under your own steam, and get a real feel for the man, his work and the locations that inspired him.
Visit the most famous house in Welsh literature at 5, Cwmdonkin Drive, in the Swansea suburb of Uplands. This listed house is where Dylan was born and spent the first twenty-three years of his life. See the parlour, the room where he slept, his study and the back kitchen – all fully restored to create life as it was in 1914. Open every day and offering a varied programme of events www.dylanthomasbirthplace.co
While you're in Uplands, take a walk around nearby Cwmdonkin Park where Dylan played and imagined his works. See the fountain where he floated his boat, breathe in the atmosphere of the place that inspired 'The Hunchback in the Park', and read the immortal lines from 'Fern Hill' inscribed in stone.

Oh as I was young and easy in the mercy of his means

Time held me green and dying

Though I sang in mu chains like the sea

Staying in Uplands, visit the Uplands Tavern where Dylan raised a glass or two. Look out for Dylan's image on the sign outside. Inside prepare yourself for great music, quiz nights and open mic sessions. www.facebook.com/TheUplandsTavern
Less than a mile away is Swansea's Cultural Maritime Quarter and Marina. It's here you'll see the gloriously restored former Guildhall which since 1995 when Swansea hosted the UK's Year of Literature, has been home to The Dylan Thomas Centre. It's open all year and is a free, family-friendly permanent exhibition called 'Love the Words' that chronicles the life, work and cultural context of Dylan Thomas through an interactive timeline, audio-visual material and recordings. It also offers a varied programme of events for adults and children throughout the year. www.dylanthomas.com
A step away is the Dylan Thomas Theatre home to Swansea's Little Theatre since 1979. This is Swansea's only waterside theatre and is a thriving community arts hub. It hosts drama productions and cross-cultural comedy all year, as well as showcasing spectacular panels of 'Dylan the Actor' who was once a member of the Little Theatre. www.dylanthomastheatre.org.uk
Walk to Swansea's city centre and have coffee, brunch, lunch, whatever you fancy. in the Kardomah, a family-run café with a buzz. Though the location has changed since the original was bombed in the 3 night blitz of 1941, it retains the atmosphere of the bohemian that was so loved by Dylan Thomas and his 'Kardomah Gang' of artists, musicians and poets, including Vernon Watkins, Alfred Janes and Daniel Jones who frequented it back in the 1930s. www.kardomahcafe.com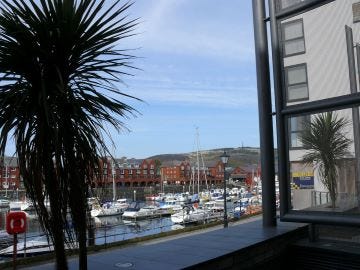 And if you don't get this all done in autumn, don't worry, you can return in the spring and be part of the world-famous International Dylan Thomas Prize. See £30,000 awarded for the best fiction, poetry, drama for a writer under 39 (the age Dylan died) at a glittering ceremony at the Great Hall at Swansea's University's Bay Campus in May each year, www.swansea.ac.uk/dylan-thomas-prize
At Home from Home we have scores of holiday rental apartments and houses at Swansea's Marina, ideally located for you to follow in Dylan's footsteps. Some are in touching distance of his commemorative statue and that of his character, Captain Cat, the old blind sea-captain from perhaps his most famous work, 'Under Milk Wood'. So get in touch.