Dates for the Diary – The Swansea Fringe
Published: Friday 16th Aug 2019
Written by: Home From Home Team
By early October, the Edinburgh Fringe will be a distant memory: Scotland will be cold, the days short. But here in Swansea, our city by the sea, the weather will be mild, the leaves turning to gold in our parks, the beaches empty, and our very own Swansea Fringe about to kick off.
So we welcome you to the party – 3 days and 1 night of Fringe Festivities (3rd- 6th October) comprising 200 artists in 20 venues across the city. There'll be music, the spoken word, comedy, art and performance. It'll be fun. It'll be dynamic. It'll be chaotic and colourful. It'll be a place to bring friends and family and share with them something to remember for years to come.
The party starts with a launch event in Swansea's historic and iconic Brangwyn Hall on Thursday 3rd October where there'll be entertainment for all ages – under 16s can come for free. There'll be an opener from Afro-Funk hip hop Afro Cluster, Wales stars fresh from Glastonbury and Green Man, Zevas & Pepper, and Buzzard Buzzard Buzzard, who have just supported Noel Gallagher.
And for the next 3 days, Swansea's thriving arts' venues will be buzzing. It'll be a chance to enjoy all the culture in some of our most-loved buildings including: Glynn Vivian Gallery, Waterfront Museum, Dylan Thomas Centre, and our hippest and most happening places such as Cinema & Co, The Hyst and Hangar 18.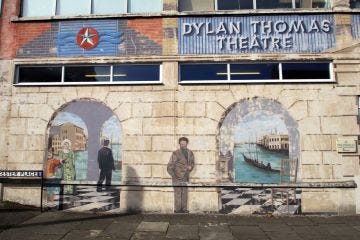 So come on down. Give yourself an early-autumn break with a difference. We can promise you non-stop entertainment in venues a stone's throw from each other in the city centre. And we can accommodate you in a wide range of very special hand-picked holiday cottages ideally positioned at Swansea's Marina or Mumbles.
To see the complete line-up and programme for the Swansea's Fringe, please see the 'Living Schedule' at www.swanseafringe.com and www.facebook.com/FringeSwansea
For all your holiday needs, speak to us at Home from Home.