Be a JCP Swansea Half Marathon Winner!
Published: Thursday 1st Feb 2018
Written by: Home From Home Team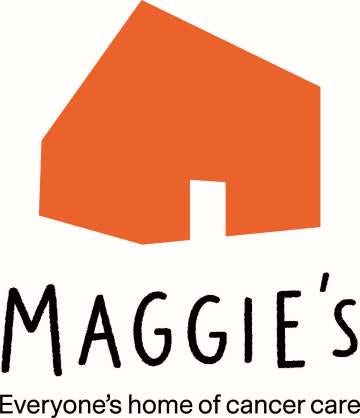 As an official sponsor of the JCP Swansea Half Marathon, we are proud to be involved in the 5th year of this fantastic race.
Not only are we partners, but we are also entering a Home from Home team to raise funds for Maggies, the fantastic charity that offers free practical, emotional and social support to people with cancer and their families.
To celebrate our involvement, we are giving people the chance to save 10% on their race entry fee as well as the opportunity to win a weeks stay in a 4* apartment within walking distance of the starting line.
Taking place on Sunday 24th June 2018; the 'Swansea Half' has been voted one of the best in the UK due to the flat course, scenic route and fantastic support from spectators.
The race is perfect for all types of runner form those attempting their first run at this distance to those who are looking to beat their PB and with lots to do in Swansea, it's the ideal race to bring family and friends.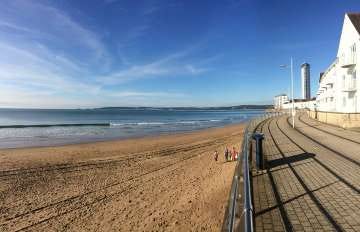 Where to Stay?
Finding accommodation for the JCP Swansea Half Marathon close to the start and finish line can be tough but with properties located within easy walking distance, you'll be glad you booked with Home from Home.
With a variety of properties in Swansea Marina, we have something to suit all tastes and budgets. 
From a one-bedroom apartment in Abernethy Quay to pet-friendly accommodation that sleeps four in Argonaut House, we have a wide range of properties to choose from.
If you prefer waking up to a view of the ocean, St Margaret's Court or Fisherman's Way have luxury homes with unobstructed views across Swansea Bay that overlook the race route, so your loved ones can cheer you on as you pass by.
No matter what home you select, they all have one thing in common - comfort, excellent value and close to the start and finish lines - and what's more, you could be in with the chance of winning a free weeks stay!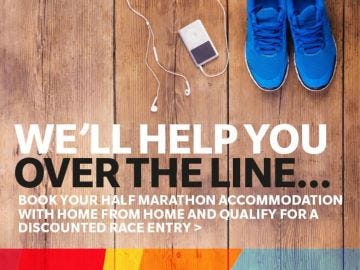 10% Off Race Entry and Win a FREE Weeks Stay
All runners who book their accommodation through us will receive a promo code to use when booking their race entry for 10% off the entry fee. Simply click 'JCP Swansea Half Marathon' when booking online or tell one of the team when calling the office and we will send you your code.
To be in with a chance of winning a FREE weeks stay in a luxury, 4* apartment in the Meridian Tower, Wales' tallest tower, simply CLICK HERE.