Radio 1 BIGGEST Weekend 2018
Published: Thursday 1st Feb 2018
Written by: Home From Home Team
With a line-up that includes Taylor Swift and Ed Sheeran plus many others, the Radio 1 Biggest Weekend is sure to rock Singleton Park, Swansea.
The two-day mini-festival will take place on Saturday, May 26th and Sunday, May 27th (over the bank holiday weekend) and is sure to be a memorable event for all those lucky enough to get tickets.
So, for those who are coming to Swansea to enjoy the Biggest Weekend but don't know what to expect, here are some pointers for you.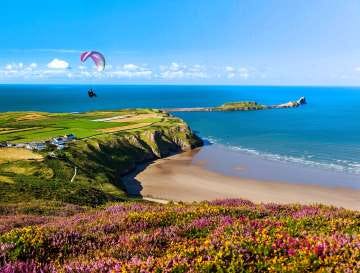 Gower
No visit to Swansea is complete without a trip to Gower. Voted the UK's first AONB (Area of Outstanding Natural Beauty), the Gower is home to some of the best beaches in Britain. Langland and Caswell are both within 20 minutes of the city centre and a little further out are the white, sandy stretches of Port Eynon and Oxwich.
All are home to a variety of water sports but if surfing is your passion, be sure to bring your board and head out to Llangennith. Recognised as one of the best breaks in Europe, even in the summertime, there are regular 2-4 ft waves, and if the surf is flat, at least you can enjoy Rhossilli Bay, voted in the top-10 best beaches in the world for three years in a row.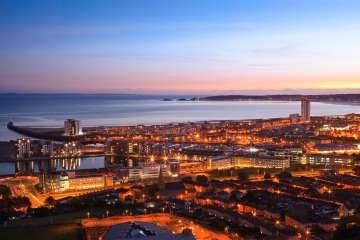 City Night Life
When the Biggest weekend stops, that doesn't mean the party has to!
Swansea is home to over 25 bars and eateries, many of which are independent and all located in a 500m stretch of road called Wind Street. Catering for all tastes and budgets, you are guaranteed to find something you love. If gin is your thing, head to Juniper Place to sample the craft-gin, they distil on site. Next door is Old Havana, an authentic Cuban bar celebrating all things rum!
Nearby are a variety of quirky bars from Flickering Light, The Perch and Bambu to 'Lil London, Meatery & Martini and La Prenza. All offer their own, unique take on food and drink so take our advice and wander about to get the best from all that's on offer.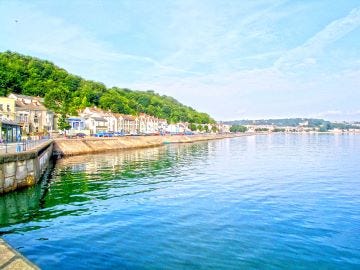 Where to Stay?
The Biggest Weekend will take place in Singleton Park, a short 10-minute bus ride from the city centre and located opposite the 7k stretch of Swansea Bay.
Sharing part of the park with Swansea University, it is easy to get to and well signposted. With a flat promenade just outside the park, you could even walk there from the two main areas to stay - Mumbles and Swansea Marina.
Mumbles, just over 4.5k away from Singleton, is an old fishing village located on the shoreline that has a vibrant cafe a bar scene as well as a number of boutique, independent clothes shops.
If you're coming to the city as a family, Mumbles is a great location, especially if Mum and Dad are not going to the concert but want to be nearby.
Properties such as Castle Road Holiday Cottage are located in the heart of the village, sleep 6 and what's more, are pet-friendly, so there's no need to find a dog-sitter while you enjoy Swansea.
Langland Bay Manor, on the other hand, is a refurbished stately home located on the beach with an excellent restaurant, golf course, and tennis courts all right outside your front door.  There are a variety of apartments available to suit parties of all sizes.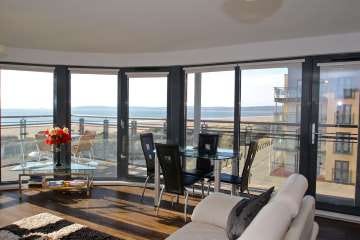 Swansea Marina
If there are a group of friends coming to Swansea, the Marina area is probably best.
As it's only 2.5k from Singleton Park, you can walk along the promenade to get to and from the concert, although being opposite the bus station, you can always hop on one of the frequent buses that pass by.
The Marina is also 500m from Wind Street and the city centre, so if you want to enjoy the sights and sounds of Swansea, the Marina is perfect.
With apartments in the Meridian Tower, you can say you've stayed in Wales' tallest building and for those that like life's comforts, try the properties in St Margaret's Court or Fisherman's Way.
For bigger families, St Catherine's Court has apartments to sleep 6 or 7 so the saying "the more, the merrier" certainly applies!