Keeping Our Seas Safe
Published: Tuesday 3rd Sep 2019
Written by: Home From Home Team
The Team from Home from Home recently joined 10,000 other spectators on 11th August to watch the 34th annual Mumbles Fun Raft Race. This colourful spectacle saw hundreds of rafts take to the water, those on board battling to have most fun while paddling at the same time to raise funds for the Mumbles RNLI.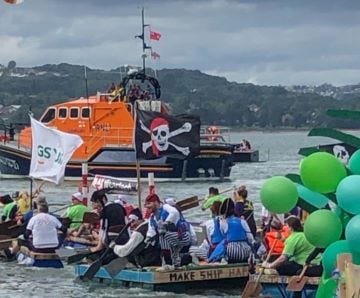 It was thrilling to see the whacky and the wonderful: hundreds in fancy dress and elaborately designed and decorated rafts rowing the 3km from Norton to Knab Rock in the gorgeous setting of Mumbles.
While there was a lot of fun, the rationale is very serious and as a Mumbles-based business ourselves, the cause is close to our hearts and at the heart of our community. The Mumbles RNLI Life Boat Station and Volunteer Crew is wholly reliant on donations, so the £15,000 that is collected in buckets at the raft race goes a long way to ensure that the Mumbles RNLI can continue to operate a 24 hour, 365 day, search and rescue operation to keep our seas around the Gower peninsula safe for all – locals and visitors alike.
The Mumbles Life Boat Station has been saving lives for over 180 years – over 400 in the last 5 years. It has won 33 awards for gallantry and sadly lost 18 volunteers while saving the lives of others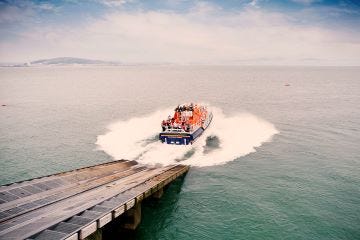 Plans are already in place for the 2020 August Mumbles Raft Race. But you don't have to wait that long to see the work of, and contribute to, the Mumbles RNLI. Their new modern lifeboat station is situated at the recently restored iconic 835ft Victorian Mumbles Pier and proudly houses a Tamar Class lifeboat with a maximum speed of 25 knots It is the most technologically advanced vessel ever produced and it is open for viewing between 11.00 and 1700 (check times) and seeing the fabulous work that goes on in lifeboat search and rescue. If you time it right, you might even be able to witness a spectacular practice launch down the slipway. https://en-gb/facebook.com/mumbleslifeboat