Best Places to Eat by the Sea
Published: Thursday 15th Aug 2019
Written by: Home From Home Team
For a small country Wales packs a big punch when it comes to UK-wide 'best-of lists'. Last weekend was no exception when I News listed '50 Best Places to Eat by the Sea' which included six in Wales, and two in our very own small patch of Mumbles and Gower.
At Home from Home we've always known that the Gower area offers a combo of great food with spectacular sea views. After all our compact peninsula is surrounded by the sea on three sides so you'll be spoiled for choice as to where to dine. Different aspects. Different vibes. Different price points. Whatever your taste (or blas as we call it in Welsh), you'll find it here.
So starting with the I News recommendations, we've added some of our own. Enjoy!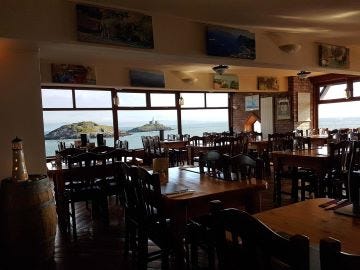 Beach House Restaurant, Oxwich – listed in I News top 50 and also 2nd place in Times best places to eat al fresco. Literally on the beach with views to iconic Three Cliffs Bay. Locally sourced produce including Oxwich Bay lobster caught in front of the restaurant and herbs foraged nearby. Eat inside stone-built restaurant or outside on decked terrace. Bilingual menu. Perfect Sunday lunch and 5 and 7 course tasting menus prepared with love by Head Chef, and proud Welshman, Hywel Griffith.
Castellamare, Bracelet Bay – popular family-feel Italian a la carte restaurant and café bar. Dine overlooking the wonderful views of Bracelet Bay, Limeslade Bay and Mumbles Lighthouse. Fish, steak and pasta are specialities. Vegetarian options. Disabled facilities and kids' outside play area. www.castellamare.co.uk

Langland Brasserie

Langland Brasserie, Langland Bay – listed in I News top 50 is this modern restaurant with relaxed atmosphere at the water's edge in Swansea's chic suburban city beach of Langland Bay. Dine inside or out and watch the surf and the surfers a few yards away. Food served all day. Sea-food a speciality as is Tapas at the bar. www.langlandsbrasserie.co.uk
Grape and Olive, Swansea Marina – take your dining experience to a new level by visiting the Grape and Olive, situated on the highest floor of the Meridian Tower, Wales' tallest building. Enjoy stellar views across the panoramic sweep of Swansea Bay to Mumbles, by day or lit up at night time. British and Welsh menu. Vegetarian friendly with Vegan options. www.sabrain.com/pubs-and-hotels-south-wales/grape-olive-swansea

Verdi's

Verdi's, Mumbles – relaxed café, ice-cream parlour and restaurant with reputation for authentic favour and quality. Family-run with home-made pizza, pasta and salads. Situated right on the sea front near the Victorian fishing village of Mumbles. www.verdis-cafe.co.uk
The Surfside Café, Caswell Bay – family-friendly sea-side shack literally on the edge of the long golden stretch of Caswell Bay. Enjoy a coffee, soft drink or hot snack as you watch the surfers or hardy sea-swimmers any time of the year. www.surfsidecafe.wixsite.com
The Worm's Head Hotel, Rhossili Bay – Iconic location on the cliffs close to Worm's Head, overlooking the majestic 3-mile sweep of Rhossili Bay. Casual and traditional style pub menu and daily specials' board, including hand-battered fish and chips. Eat in the bar, the lounge or the terrace. www.thewormshead.co.uk

The Worm's Head

 Cwm Ivy Café, near. Llanmadoc – a welcome pit-stop for walkers (and dogs) on north Gower's estuary coast. Sit inside or in the garden and enjoy breath-taking views of woods, dunes, sand, sea and salt marshes along with corned beef pie, home-made soups and cakes. www.facebook.com/cwmivycrafts